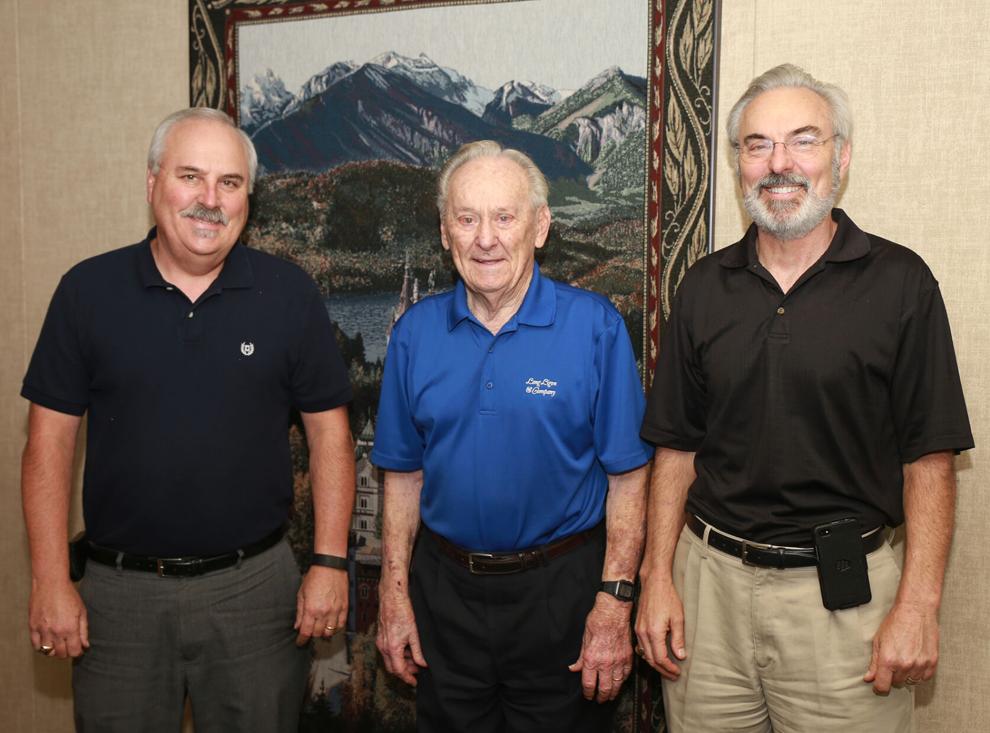 Although he didn't know the secret to his longevity, Lang Ligon Jr. did know the special sauce that enabled him to lead a successful textile business and a live a wonderful life.
It was the Golden Rule.
Ligon, who founded Lang Ligon & Company, Inc., in Greenville, S.C., in 1962, told me that five years ago when I interviewed him in the firm's conference room.
He was 95 at the time.
And still coming into the office every day. Oh, and driving there.
Today, the world lost one of the finest people I've ever known. Lang Ligon died peacefully at 1:30 this morning, according to his son, Harrell.
He was 100 – "and nine months old," Harrell Ligon said.

Although he had given up driving and coming into the office that much since our interview, Lang Ligon never quit working. He continued to conduct business via the computer, emails and phone conversations, his son informed me today.
And what a blessing he was to anyone who knew him. He was the epitome of a Southern Gentleman – humble, gracious, kind. And genial, affable, warm. And an eye sparkle and slight grin that gave you a sense of comfort.
Throw in the fact that he was first lieutenant in the U.S. Army infantry who served in Europe during World War II, and you have a man among men – a remaining member of the Greatest Generation, which we're losing too quickly.
But to Ligon, none of those superlatives meant nearly as much as being a man of deep faith, he said. Christianity forged his path from an early age, he said. And that Golden Rule – "Do unto others as you would have them do unto you" – led him to much success in his career and made him a immeasurably rich with friends and intangible gifts, he said. Both of his grandfathers were Presbyterian ministers, and he was instilled those strong values by his parents, he said.
During my interview, part of the Southern Textile Association's (STA's) Textile Heritage Project, he highlighted numerous touchpoints of his life and career. How he followed his father into the textile industry. How he launched the company. How is first sale – of used textile equipment – resulted in a $300 check written by Cone Mills that would be the start of a successful business that would help feed his family and send three children to college. How he landed clients who became lifetime business partners and friends. How his two sons got involved in the family venture. How he ran the business.
And what the cornerstone ingredient to it all was.
"I've seen the time when I didn't know where the money was going to come in to pay this or pay that, but I didn't worry about it," Ligon said. "I knew it would come in. I never did any smart things that I know of, but I did what I thought was the best thing to do. And I never let anybody down that I know of. I just did what I was supposed to do. I did what was right. You've just got to be honest. That's what's right."
Handshake agreements were commonplace among friends who trusted each other, he recalled. He saw the industry boom for many years and nearly bust. But there was never any doubt that the company would survive, he said.
"We had times when we lost money, but we had other times when we made a good bit of money," said Ligon, who, as a child during the Great Depression, knew a thing or two about pinching pennies and making do. "And when we did, we didn't spend it. We kept it within the company. So we always had that to draw on."
Starting as a used equipment dealer, Lang Ligon & Co., Inc. now supplies the textile industry with machinery and accessories from around the world for the weaving, knitting and finishing sectors. Lang Ligon turned the leadership reins of the company over to his two sons, Harrell and Richard, years ago. But, almost until his passing, he was within earshot to offer advice and consultation as needed.
"I'm still chugging along," he said in 2017. "I'm still coming in but a little bit later. It's 9 o'clock now instead of 8. But I still go home at 5 o'clock. I've been really blessed. I have two good sons who have taken on the business. They have been in textiles their whole lives. Fortunately, they took after their mama and they're real smart, so they've been able to run the company better than I ever was able to."
One of the more humorous moments during our discussion was when he described his sons and their strengths.
"It's really amazing the way the two work together," Ligon said. "They have the same goals, but they work differently. One moves fast, the other thinks about everything. They harmonize so well that you can't help but laugh every once in a while. They fit together. They never argue. They need each other. One without the other would not be too good. The two of them together equals three."
He continued: "But they don't work the same way. Each one of them does what they do much better than the other one can. If I want somebody to explain something to me, I don't ask Harrell. He's too fast. I don't know what he's talking about by the time he's through. I'll get Richard. He's slow and he tells me how to do it. But if I want someone for certain things, I'll ask Harrell. We're just blessed all the way around with these two."
If you've been in the textile industry for any measurable amount of time, you've surely heard of Lang Ligon & Company. But you may not have met the patriarch of the operation, the man who established the business' modus operandi many years ago.
It was a gift if you did.
Early on in his century of life, Lang Ligon Jr. knew his calling was be in service to others – and to a higher power.
"We love textiles, we love working, we love the opportunities," he said. "But we're on this Earth to make it better. Period."