GREENVILLE, S.C. – Textile industry professionals converged on this up-and-coming, textile-rich city April 30-May 2 for three days of networking, information gathering and activities during the Advanced Textile Association's (ATA's) annual OUTLOOK® Conference.

Organized by the ATA's the United States Industrial and Narrow Fabrics Institute (USINFI) and its Geosynthetic Materials Association (GMA) divisions, the event attracted nearly 100 attendees to the historic Westin Poinsett Hotel to engage, learn and connect with colleagues in the industry. A day and a half of informative business sessions were filled with knowledge and idea exchange as well as insights from various thought leaders in their areas of expertise.
________________________________________________________________
________________________________________________________________
Aside from business, attendees were able to attend a minor-league baseball game, participate in a golf tournament and stroll the bustling streets of downtown on a guided walking tour for foodies and history buffs that featured stunning views of the picturesque Reedy River falls. Greenville, which once boasted 19 textile mills and thousands of employees who called the mill villages home, still honors its textile heritage with a mural on the side of a three-story building downtown recognizing the city as the "Textile Center of the World."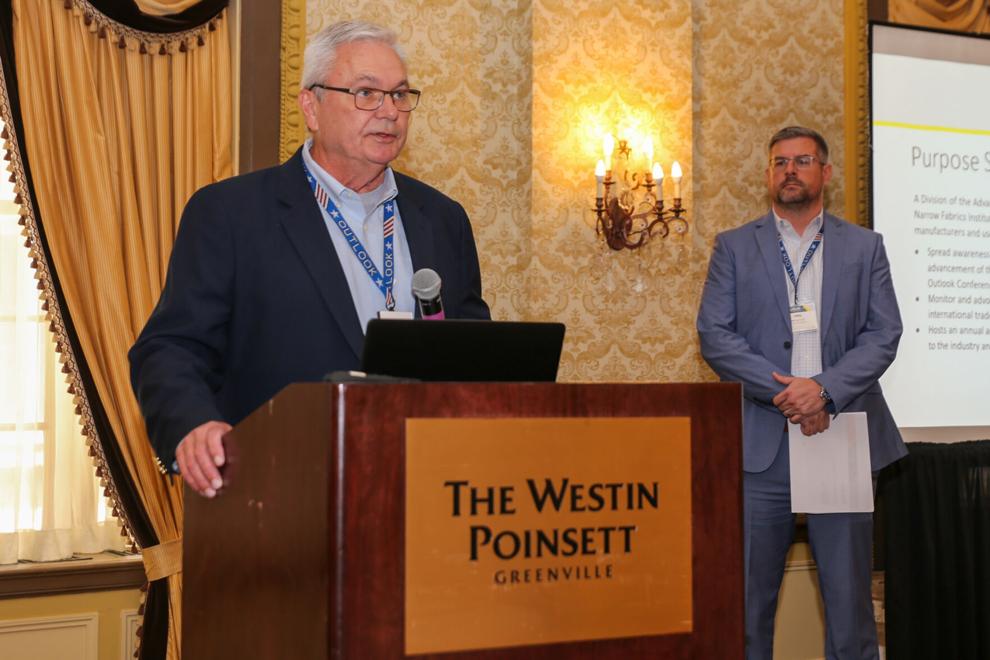 "I think we accomplished our goals for the conference," said USINFI Chair Bob Hancuff of Burlan Manufacturing, Gastonia, N.C. "We wanted everyone to come away with something valuable, whether a new industry insight or personal connection with a colleague. I was personally able to do both."
He added: "The educational programs were well above average. We had a solid set of programs that were able to reach all segments of our specialty fabrics membership."
The first morning featured Military Sessions that ran concurrently with Infrastructure Sessions, which preceded an afternoon covering updates on Washington policy, a leadership panel and an interactive discussion on leading through uncertain times. Supply chain logistics, a fiber market update and an economic overview highlighted Day 2.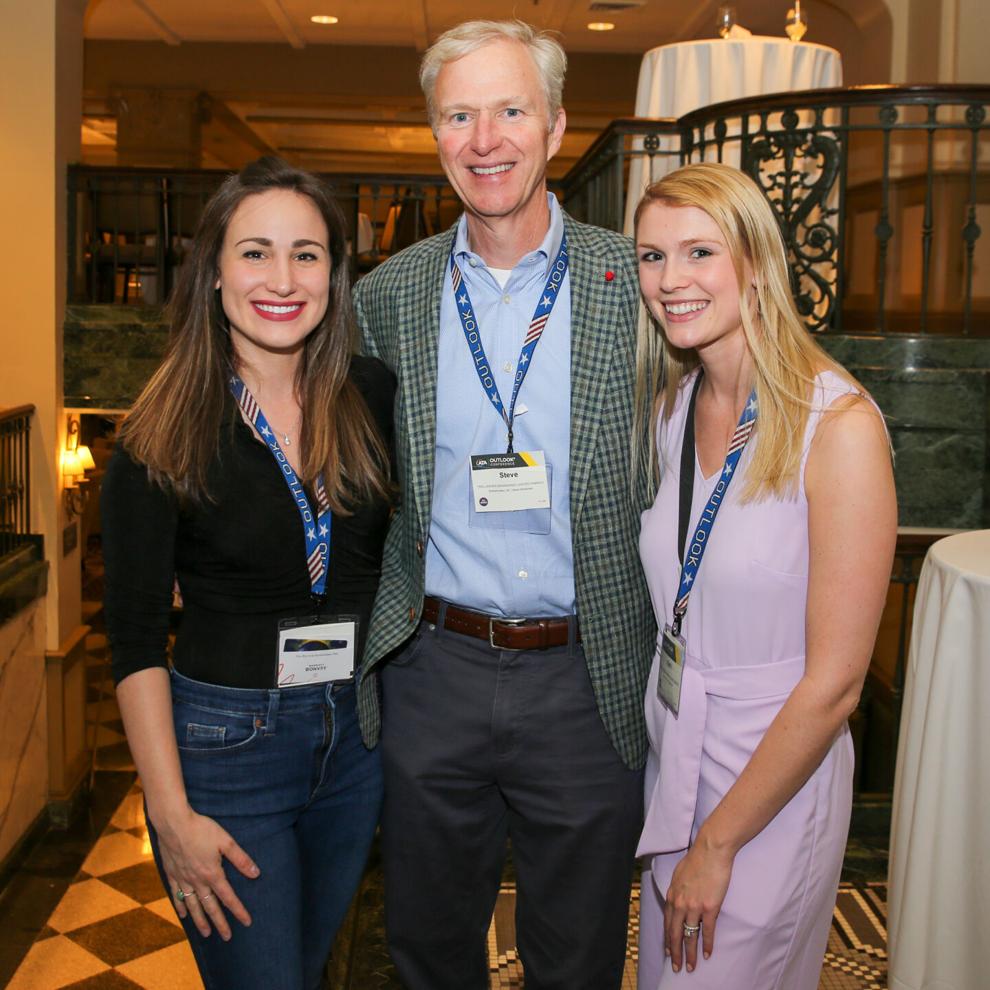 "My colleagues and I found the Military Sessions enlightening, with discussions surrounding current market challenges and opportunities," said Karli Wolf, Trelleborg Business Development Manager, Government & Defense, Rutherfordton, N.C. "Networking with key executives and experts across industries was equally beneficial. ATA events continue to provide excellent platforms for discussion, debate and building connections."
Greenville local Mike Alexander, vice president & general manager of industry supplier Frankl & Thomas, said the event left him energized and optimistic about the future of the industry.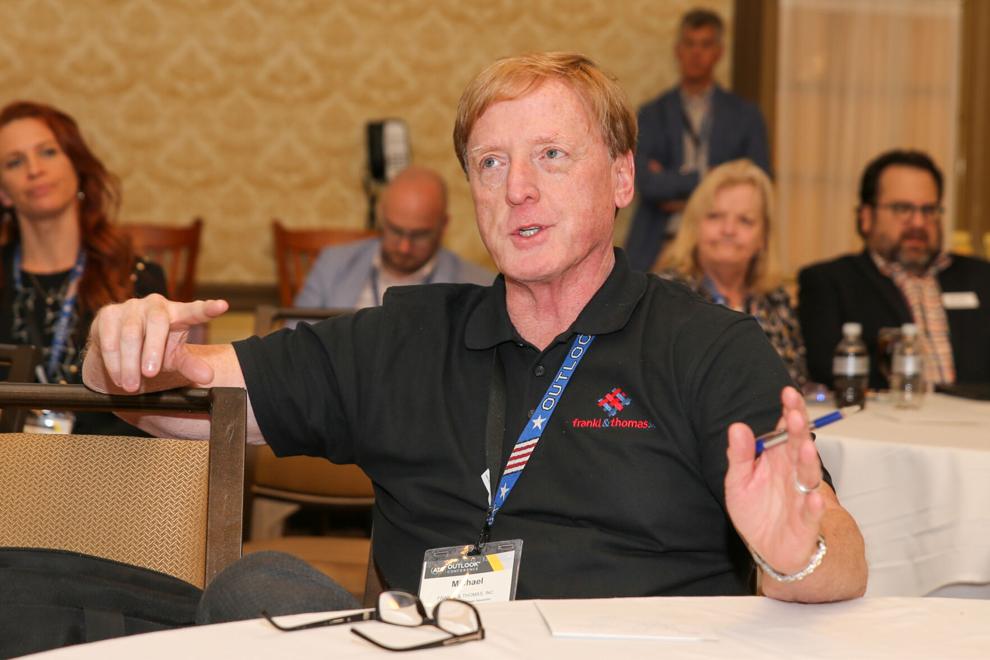 "I enjoyed another OUTLOOK, and I always come away impressed," he said. "It was a great conference. I learn something each time I attend, and the networking and fellowship among members are outstanding."
Added Jeff Sponseller, executive vice president of sales and marketing at Miller Weldmaster, Navarre, Ohio: "OUTLOOK is an inspiring opportunity to share expertise that empowers all of us to shape the future of the industrial fabrics industry together."
Military Sessions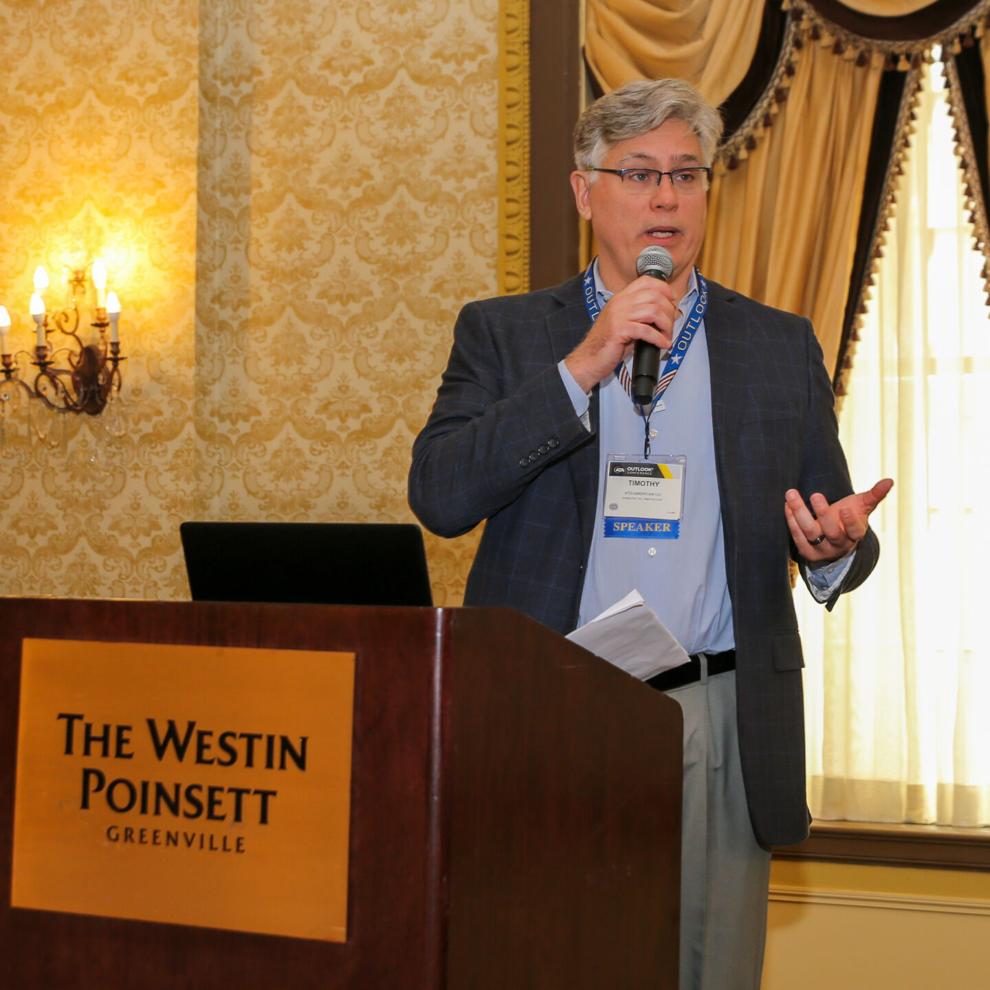 Tim Voit, vice president at ATD-American Co., kicked off the segment with "An Endangered Ecosystem," where he discussed how domestic textile supply chains remain under strain after COVID-19 and how government agencies can ensure reliable product origin. ATD is a 90-year-old manufacturer of bed linens and fabric with factories in Georgia and South Carolina and a federal government contractor for over 50 years. He oversees all aspects of marketing and sales strategies for both ATD-American and its manufacturing division, Thomaston Mills.
Repeat presenter Ron Houle, founder and president of Pivot Step Consultants LLC and a retired Army Colonel, gave his annual eye-opening talk on defense budget challenges for the coming year. He noted that the allocation of limited resources across the range of demands from domestic and international stakeholders has never been greater, and discussed the effects on the advanced textile industry and national security.
Leighann Mazoki, division chief, Resolution Division, Clothing and Textiles Supply Chain, DLA Troop Support provided an overview of the Clothing and Textiles part of DLA Troop Support.
Infrastructure Sessions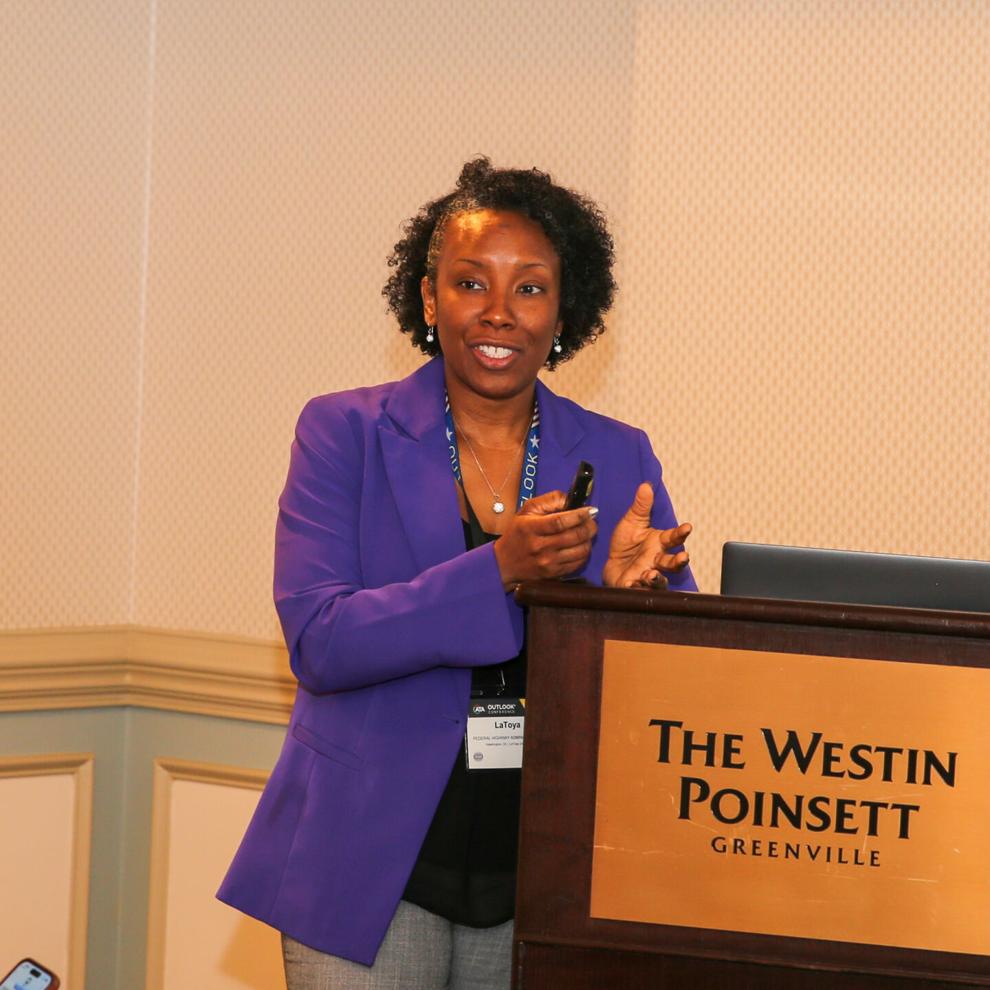 Highlighting the program was:
Nick Goldstein, vice president of Regulatory & Legal Issues, American Road & Transportation Builders Association (ARTBA), who provided a federal regulatory update;
LaToya N. Johnson, P.E., Pavement Design & Performance team leader, Federal Highway Administration, who covered, "Towards More Sustainable and Resilient Pavements;" and
Martin T. Whitmer, principal, Whitmer & Worrall, LLC, who provided a government relations update on behalf of the Geosynthetic Materials Association
After those sessions, a luncheon featured a keynote by Rep. William Timmons (R-S.C., 4), who discussed the current legislative agendas for the 118th Congress.
Other presenters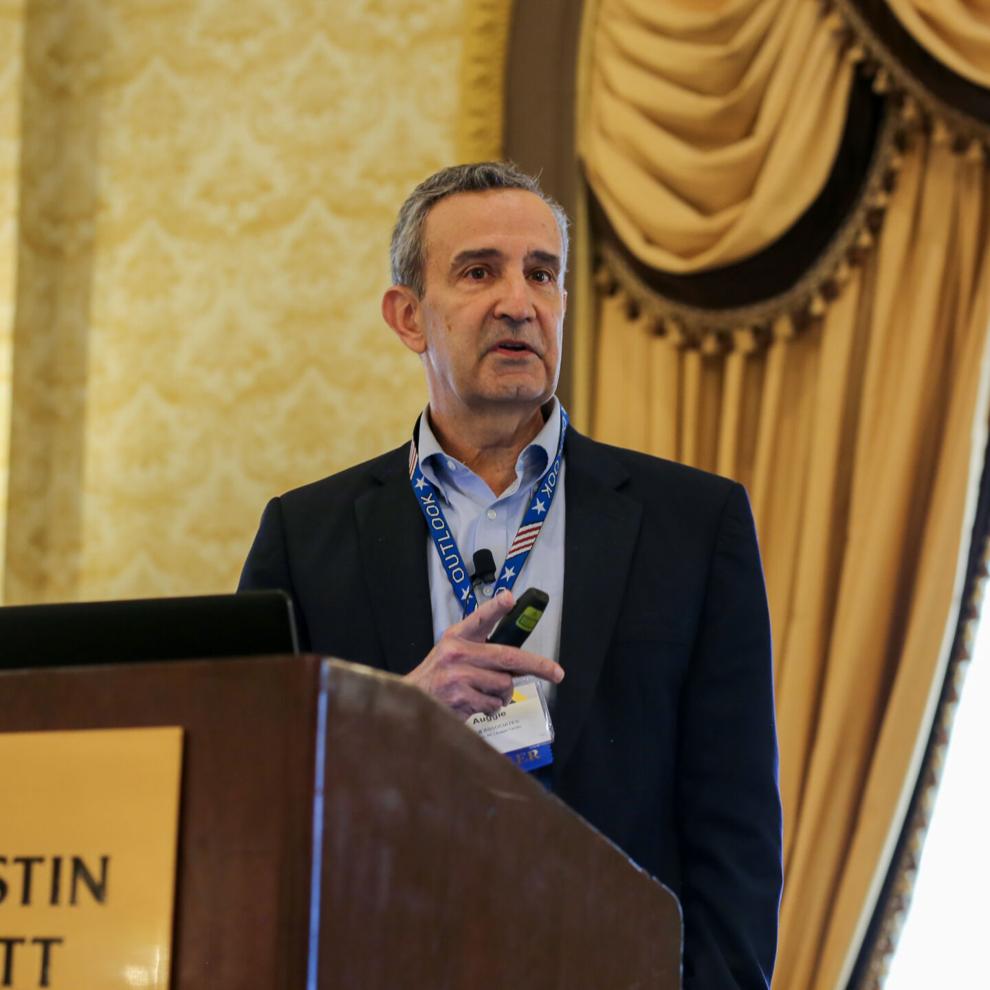 Additional speakers covered a plethora of other important topics, including federal trade and policy updates by Auggie Tantillo, president of SRG & Associates and retired president & CEO of the National Council of Textile Organizations (NCTO). He highlighted the recent USINFI Advocacy Days in Washington, D.C., where 24 separate meetings with elected officials or their staff took place, and legislative developments that included buy-American requirements under the National Defense Authorization Act, China 301 and forced labor issues, the Miscellaneous Tariff Bill and government procurement issues.
He noted that several victories have been realized for the industry post-pandemic, including the Simplified Acquisition Threshold (SAT) that lowered the contracting threshold for the Berry Amendment; the Make PPE in America Act that institutes the Berry Amendment Rule for PPE; and the Homeland Procurement Reform Act that institutes a small business set‐aside for Department of Homeland Security (DHS) purchases of apparel, medical PPE and footwear.
"I've been doing this for 40 years and, for a good portion of that time, we were fighting to convince Congress to keep the Berry Amendment in place, and to keep buy American mandates at least for items that impacted our national security," Tantillo said. "But COVID did more in two years to switch the mindset in Washington than all my talking for nearly four decades because it crystallized the reality versus the theory of what it means to be dependent on someone else for important material."
James Griffith, COO of Brawer Bros., Inc. moderated an exceptional panel on "Multi-Generational Leadership." Panelists included Jane Johnson, Government Affairs manager, Unifi Manufacturing, Inc.; Zane Vogel, president & CEO, Spiritus Systems; and Jordan Krauss, vice president, American Cord & Webbing Co., Inc. (ACW). Each brought unique perspectives and insights in their roles as at their respective companies.
Likewise, Jeremy Ginsburg, founder of Notice U Marketing, Inc., Las Vegas, offered something different and relevant to this conference with a presentation that covered the proper use of digital marketing, search marketing, SEO and CRMs to drive sales effort and measure results.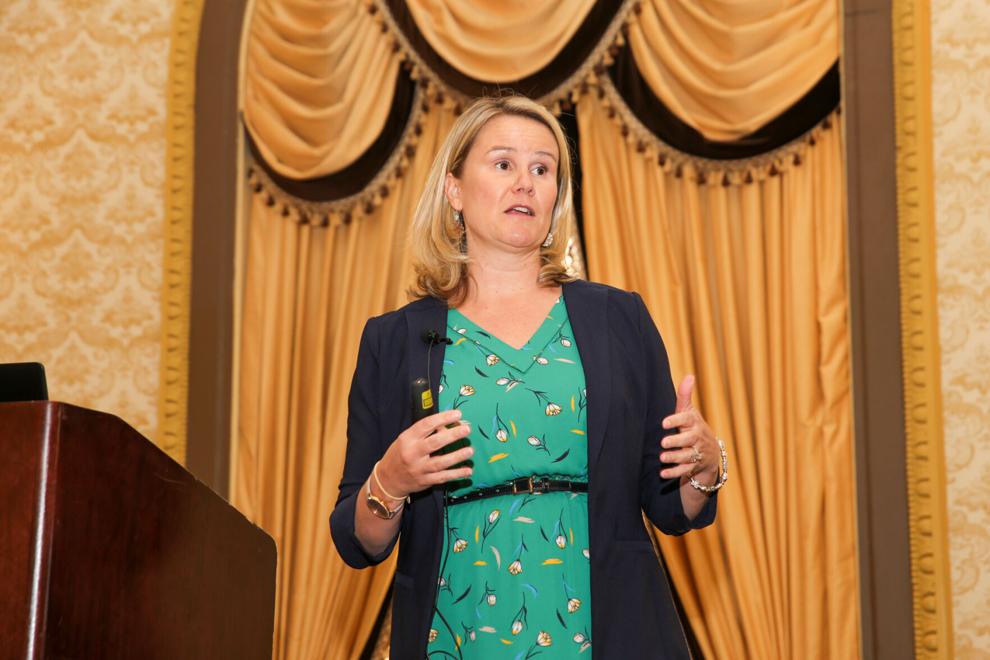 Another repeat presenter, Dr. Melissa Furman, MS, DBA, founder and consultant at Career Potential, LLC, captivated the audience with a deep dive into organizational leadership through uncertain times that are occurring at an accelerated pace. During the engaging, interactive session, she provided recommendations and strategies for navigating ongoing challenges such as generational preferences, employee burnout and work productivity, to name a few. Dr. Furman also made an encore appearance by guiding attendees through a workshop on the topic after dinner.
Meanwhile, Bill Rooney, vice president of Strategic Development at Kuehne + Nagel Inc. and a subject matter expert with nearly 50 years of experience in transportation management, provided an update on global sea logistics.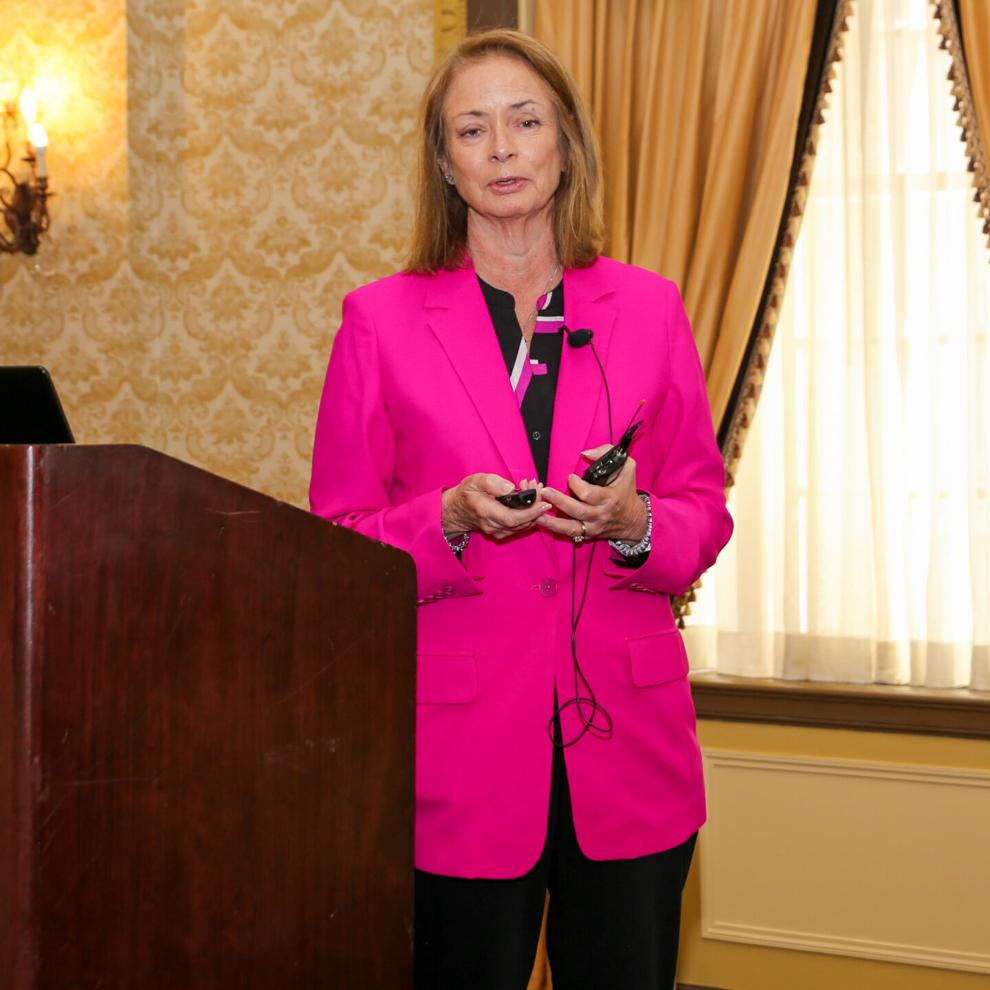 On the fiber front, Laura Murphy, research director of fibers at Wood Mackenzie Chemicals, discussed the volatility and murky forecasts in the global market for raw materials, mill consumption, prices and freight issues.
Another return presenter, the highly sought-after Dr. Roger Tutterow, professor of Economics at Kennesaw State University, provided a riveting economic update in his typical homespun manner that mixes hard numbers with humor. Tutterow, who holds the Henssler Financial Endowed Chair and serves as director of the Econometric Center, discussed the ongoing impacts of COVID-19 on the retail sector and real estate, prospects for resolution of supply chain and labor market dislocations, the recent upturn in inflation and ongoing changes in Federal Reserve policy changes.